Betor™ MRI Safe Ceramic Scalpel for iMRI Surgery, Biopsy and Anatomy
Overview
Bringing innovation into one of the most ancient surgical instruments, Betor™ MRI Safe Ceramic Scalpel's blades are made out of  Yttria-stabilized Zirconia (YSZ), very hard and tough ceramic. Zirconia is 8.5 on the Mohs scale of mineral hardness, compared to 4.5 for normal steel and 7.5 to 8 for hardened steel and 10 for diamond. Attached to plastic handles, the Betor™ Ceramic Scapels, or lancets, are non-magnetic, compatible with safety in iMRI (Intraoperative Magnetic Resonance Imaging) environment, usually performing MRI-guided surgery. Instead of titanium blades, Betor™ MRI Safe Ceramic Scalpels provide a much sharper alternative. Also, ceramic scalpel provides fast wound healing with its better bio-compatibility[1].
Features
MRI safe scalpels for iMRI Surgery and Biopsy
YSZ-Ceramic blades, type: #11, #12, #17, #23, with plastic handle
Also suitable for pathology and anatomy.
CE Certified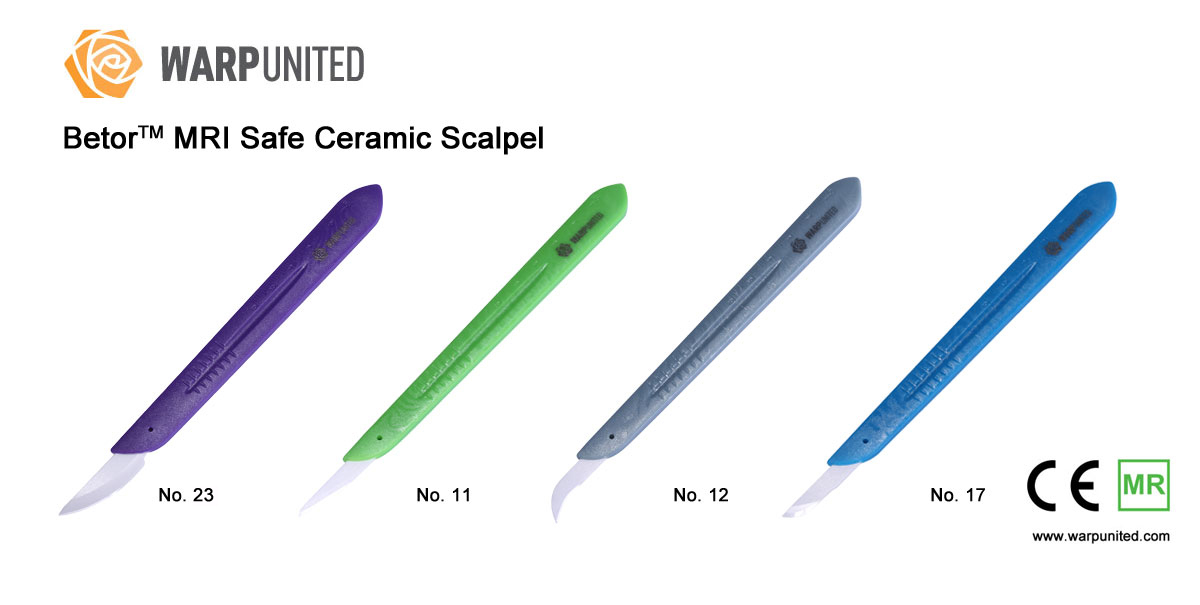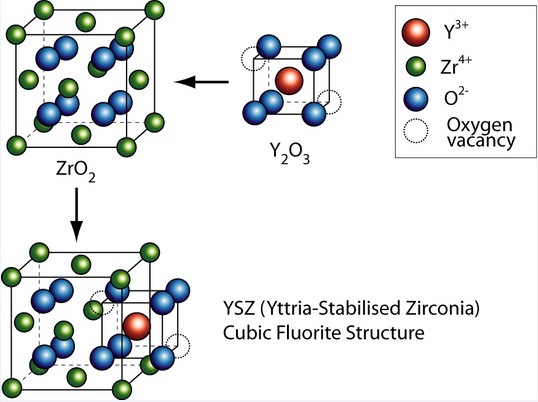 By University of Cambridge, CC BY-SA 2.5, Link
Cutting Edge 
| | |
| --- | --- |
| | Harder and sharper than any steel, retaining a cutting edge longer than forged metal scalpels, no resharpening necessary. |
MRI Safe 
| | |
| --- | --- |
|   | Non-ferrous and non-conductive, the scalpels feature a safety tool in the MR environment, without image artifacts. |
Reliable Storage
| | |
| --- | --- |
| | Never rust, pit, or corrode in harsh environments, and resistance to strong acid and caustic substances. |
Lightweight
| | |
| --- | --- |
| | Weighing about 10g., easier for medical relief transportation. |
Instruction
Sterilization
Cold Sterilization Solution or Low-Temperature sterilization, please refer to the sterilization product instruction.
HIGH-LEVEL Disinfection
Put the scalpel in, at a minimum recommended concentration (MRC) of 1.5%, glutaraldehyde at 35°C (95°F), not to exceed 28 days, with a minimum contact or immersion time of at least 5 minutes.
About Scalpel
A scalpel, or lancet, is a small and extremely sharp bladed medical instrument used for surgery, anatomical dissection, and various arts and crafts (called a hobby knife). Scalpels may be single-use disposable or re-usable. Re-usable scalpels can have permanently attached blades that can be sharpened or, more commonly, removable single-use blades. Disposable scalpels usually have a plastic handle with an extensible blade (like a utility knife) and are used once, then the entire instrument is discarded. Scalpel blades are usually individually packed in sterile pouches but are also offered non-sterile. Double-edged scalpels are referred to as "lancets".
    - wikipedia.org
About MRI Safe
About  Intraoperative MRI
Intraoperative magnetic resonance imaging (iMRI) refers to an operating room configuration that enables surgeons to image the patient via an MRI scanner while the patient is undergoing surgery, particularly brain surgery. iMRI reduces the risk of damaging critical parts of the brain and helps confirm that the surgery was successful or if additional resection is needed before the patient's head is closed and the surgery completed.
    - wikipedia.org
Distributors of medical supplies are welcomed!
Download
Betor Ceramic Scalpel Brochure V0.1EN