VLK-3 Waterproof Triage Tag
Designed by Physicians and Designer, VLK-3 Triage Tag for Emergency Medical Technicians, paramedics, and first responders, is to quickly classify victims during a mass casualty incident (MCI) based on the severity of their injury.
Highlights
PRACTICAL USABILITY- Combining simple triage and rapid treatment (START) and SOAP Note systems
EASY 2 USE- Designer graphic and text assure global responses in Mass Casualty Incidents (MCI)
SAFETY FIRST- Easily disinfected with ordinary non-alcohol based wipe and spray
MAKE NOTES EVERYWHERE- Pencil in wet environment and ballpoints in dry condition
TRUE POINT OF CARE- Made of synthetic paper enduring body fluid, blood, sweat, water, and disinfectant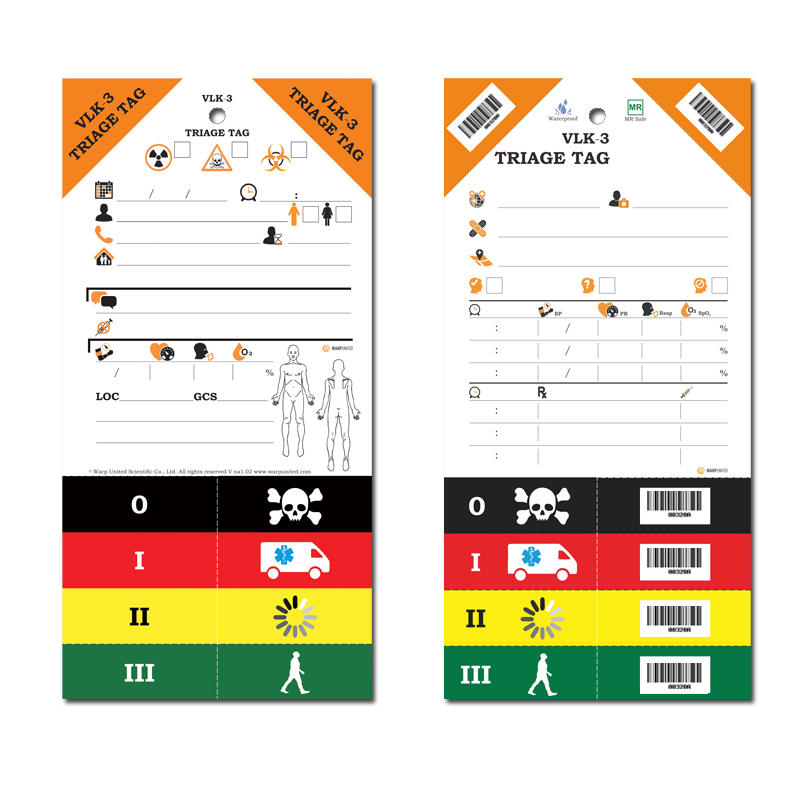 The VLK-3 Triage Tag adopts Simple triage and rapid treatment (START) in evaluating victims and assigning them to one of the following four categories:
Immediate (red) 
Delayed (yellow) 
Minor (green) 
Deceased (black)
Additionally, the VLK-3 Triage Tag reorganized the record filed into an optimized SOAP Note (an acronym for subjective, objective, assessment, and plan) type of data structure.
Considering hazardous working environments that first responders face, the VLK-3 Triage Tag provides full medical practice protection indoors or outdoors at air temperature from -4 to 140℉. It could be disinfected easily against cross-infections and/or contamination on a routine basis or in emergency scenarios.
Download