Warp™ 3 Medical Recorder
Overview
Warp™ 3 Medical Recorder is a handheld point-of-care mobile system as EMR with ultrasound and vital signs. Mobile technologies of Android tablet and micro ultrasound scan and vital signs measure modules further support the ease of use for the physicians. Furthermore, the mobile EMR supports workflow portability needs due to which clinicians can document patient information at the patient's location.  
With critical medical grade ECG, Blood Pressure, SpO2, Respiratory, Temperature, ultrasound sonogram and cloud Electronic Medical Records (EMR) that essentially required by the primary care, it is to be used as an adjunct to physical examination, mostly for primary care doctors to diagnose and rule-out a patient at the point of care, especially when they are far from any medical facilities.
Primary Care | Rural Medical | Remote Healthcare | On-site Aid | mHealth | eHealth | Mobile Medical Care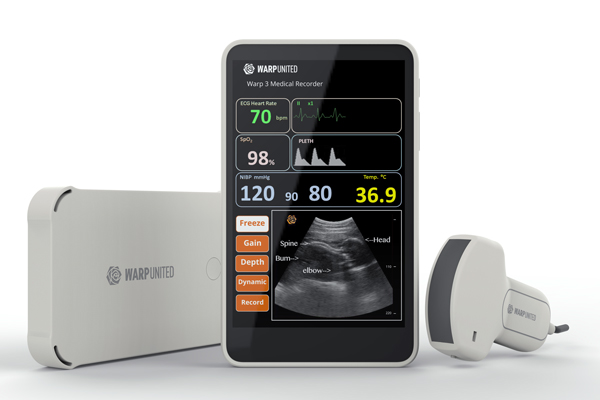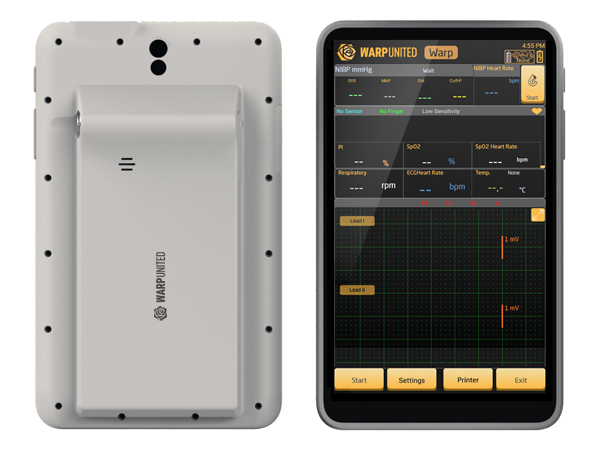 The Valkan

™

 3 Tablet based on operation system of Android 5.1+, process and receives information from the Volans™ 3 Vital Sign Module via Bluetooth connection and Urxa™ 3 Ultrasound Module via cable, in order to display the vital sign reading and ultrasound images. Valkan™ 3 Tablet allows for image and information display.
| | | | |
| --- | --- | --- | --- |
| GENERAL |   | CONNECTIVITY |   |
| Form factor | Touchscreen | Wi-Fi | 802.11 a/b/g/n |
| Protection  | IP33 | Bluetooth | v 4.10 |
| Dimensions (mm) | 262 x 175 x 16mm | GPS | Yes |
| Battery capacity (mAh) | 9900 | Video output | HDMI |
| DISPLAY |   | Headphones | 3.5mm |
| Screen size | 7 inches | FM | Yes |
| Resolution | 800x1280 pixels | Number of SIMs | 1 |
| HARDWARE |   | SIM Type |  GSM: B2/B3/B5/B8  |
| Processor | 1.8GHz RK3288 |   | LTE FDD: B1/B2/B3/B4/B5/B7/B8/B28  |
| RAM | 2GB |   | LTE TDD: B40  |
| Internal storage | 16GB |   | WCDMA: B1/B2/B5/B8  |
| Expandable storage | TransFlash card up to 32GB | SENSORS |   |
| CAMERA |   | Gyroscope |  Yes |
| Rear camera | 8M pixel | Compass/ Magnetometer | Yes |
| Front camera | 2M pixel | Proximity sensor | Yes |
| SOFTWARE |   | Accelerometer | Yes |
| Operating System | Android 5.1 | Ambient light sensor | Yes |
Urxa™ 3 Ultrasound Module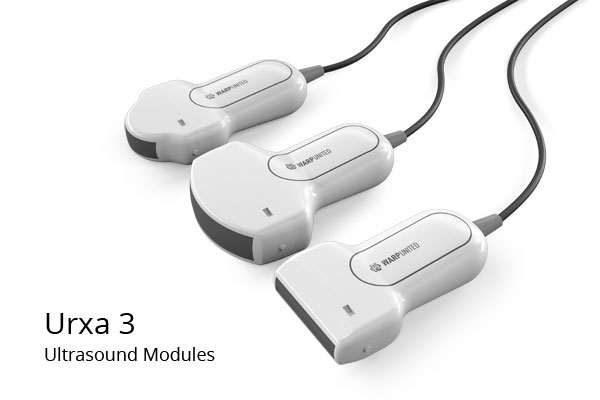 When Valkan™ 3 Tablet connected with Urxa 3 Ultrasound Module, doctors can perform ultrasound sonogram through 3 different type of transducer (B-mode) for various ultrasound scan. Everything inside the module, probably the smallest ultrasound scanner in the world.
Volans™ 3 Vital Sign Module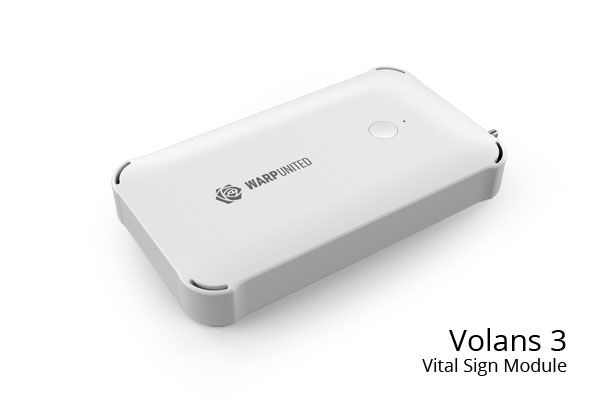 When Valkan™ 3 Tablet using together with Volans™ 3 Vital Sign Module, they are intended to be used for displaying of multiple physiological parameters including 6-Channel ECG, heart rate (HR), respiration (Resp) rate, temperature (Temp), SpO2, pulse rate (PR), non-invasive blood pressure (NIBP) of patient.
Building on Today's Technology
The development of the Warp™ 3 Medical Recorder is firmly based on today's "tried and tested" medical technology. We're simply building upon existing technology with innovative solutions from leaders in the field. At a glance, any qualified doctor, nurse or paramedic can familiarize themselves with its functions:
Multi-Parameter Vital Sign
Ultrasound Imaging
Electronic Medical Record*
Multi-purpose Point of Care Solution
With the Warp™ 3 Medical Recorder, we've always envisioned that it will be used in different roles and multiple scenarios. It's  ready for point of care routine checks, outpatient examination, rural medical services, disaster relief and more:
In-patient routine check
Out-patient screening
Rural and remote area all-in-one solution
Disaster medical relief
Medical Teaching and training
Flexible Modules
Since the Warp 3 Medical Recorder has such a wide scope of application, we're building it to be flexible and expandable. Wireless modules, will make it easy to adapt the Warp 3 Medical Recorder to the desired application and take its capabilities even further. These are some of the modules now available:
Volans™ 3 Vital Sign
Urxa™ 3 Ultrasound
Global Connectivity
To create a device that can be used in a truly global sense, we're keeping connectivity high on the list. The Warp Medical Recorder will come fully equipped for linking medical facilities with healthcare workers and the online community. This opens the communication channels for rapid information exchange or even real-time medical support. The integrated connectivity hardware includes:
Wi-Fi (2.4/5.0 GHz)
Bluetooth
GPRS(2G)/ 3G/ 4G Mobile Network
About "Medical Tricorder"
by which this product is inspired
The idea of a medical tricorder comes from an imaginary device on the science fiction TV show Star Trek from the 1960s which featured fictional character Dr. Leonard McCoy using it to instantly diagnose medical conditions.
    - wikipedia.org
The medical tricorder has a detachable, high-resolution, hand-held scanner that sends life-sign information to the tricorder itself. It can check all vital organ functions, detect the presence of dangerous organisms, and human physiology. Its data banks also contain information on non-human races known to the Federation, thereby making it possible to treat other life-forms.
    - "'Star Trek' - The Tricorder". BBC. Retrieved 2012-12-01
About "Point of Care"
Clinical point of care is the point in time when clinicians deliver healthcare products and services to patients at the time of care.
    -by Information at the Point of Care: Answering Clinical Questions. Ebell, Mark, 1999, 12(3), 225-235.
Download
Warp 3 Medical Recorder Technical Specification
Warp 3 Medical Recorder CE Certificate
*under developement