Shenzhen | Jun. 29. 2018
Warp United releases VLK-3R1 RFID Triage Tag for Mass Casualty Incident today to global Emergency Medical Services (EMS).
Designed by physicians, engineers, and designers, the VLK-3R1 RFID (Radio-frequency Identification) Triage Tag is to quickly classify victims during a mass casualty incident (MCI) based on the severity of their injury in conventional and digital ways and empowers EMS with the latest technology of Internet of Things.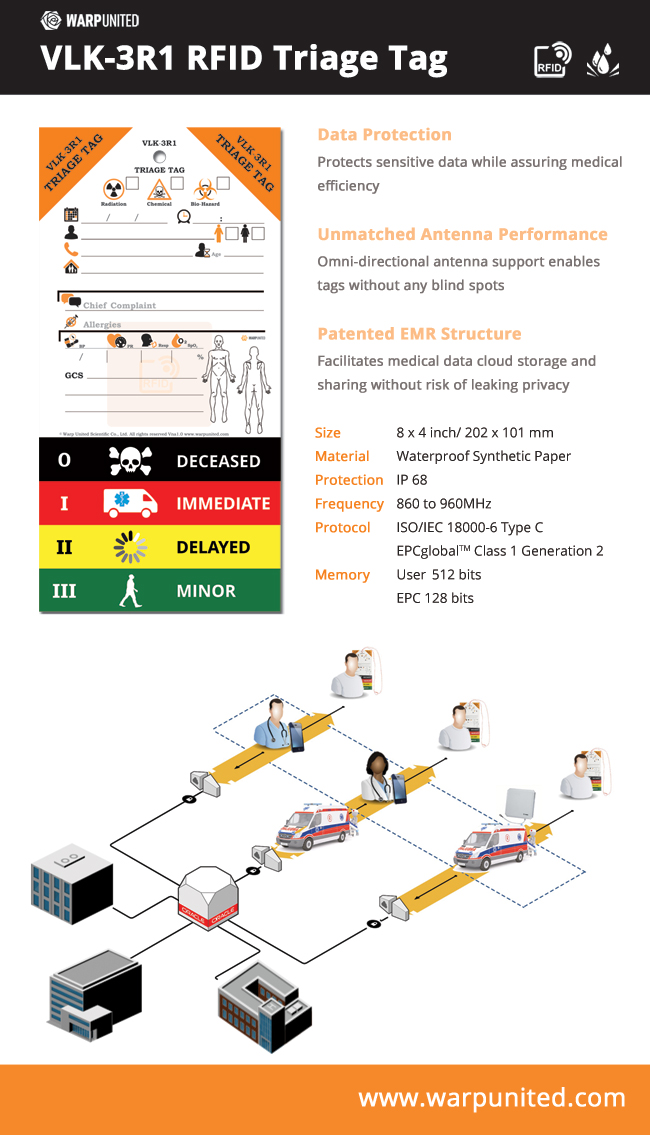 The VLK-3R1 Triage Tag adopts Simple triage and rapid treatment (START) in evaluating victims and assigns them to one of the following four categories:
Immediate (red)
Delayed (yellow)
Minor (green)
Deceased (black)
Additionally, the VLK-3R1 RFID Triage Tag reorganized the record filed into an optimized SOAP Note of data structure. It's easy to be written and read in the embedded RFID chip from distance up to 5m/16.5 ft, which helps the EMS upgrade to the Internet of Things and Telemedicine system. With the patented safety data structure and encryption technology, the VLK-3R1 Triage Tag enables patient data transfer's security and efficiency.
"The VLK-3R1 RFID Triage Tag is an ideal combination of conventional product with the latest RFID Technology." Kilo LIANG, MD, CEO/Co-Founder of Warp United, comments, "It can be used identically as conventional triage tag, and with tiny RFID reader/writer upgrades of the first responder and ambulance, it turns the EMS into sources of data for downstream and tracking."
The VLK-3R1 RFID Triage Tag is now available for the global market, and Warp United is providing further customized hardware/software system integration for the telemedicine EMS society.
About Warp United
Warp United Scientific Co., Ltd. is a pioneer Chinese Health 2.0/Point-of-Care medical technology company headquartered in Shenzhen, China that designs, develops, and sells medical electronics, software, and online services. The company's hardware products include Warp™ Medical Recorder, Volans™ Vital Sign Module, and Urxa™ Ultrasound Module. Medical software and online service include the Warp United™ cloud EMR (Electronic Medical Records) and productivity suites.
Warp United was founded by Kilo LIANG and Dongdong ZHENG in April 2013. The founding partnership of doctors and engineers is driven by a goal in medical information infrastructure, data management, analytics, and artificial intelligence (AI). Warp United is committed to improving access to the healthcare data stream and supporting front-line healthcare around the globe.